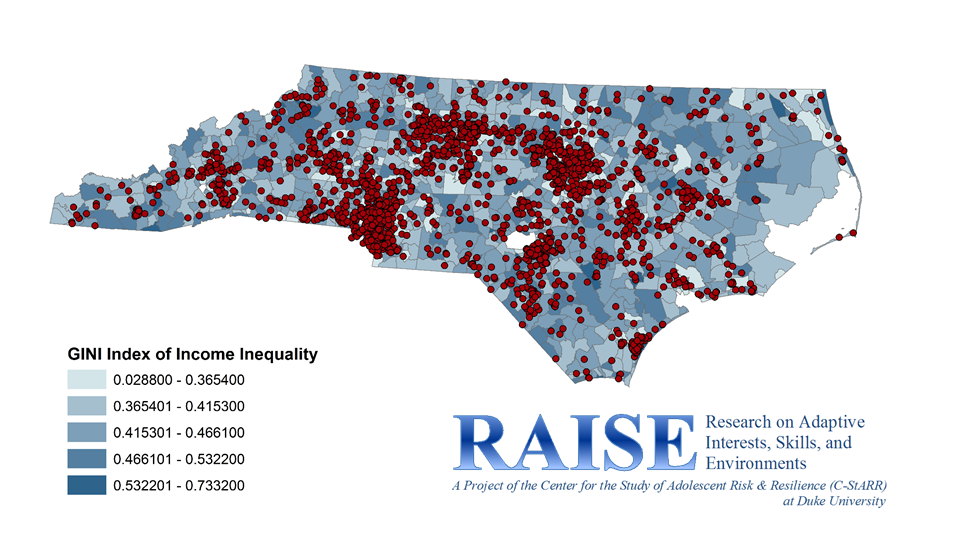 Participants
Participants were drawn from the population of children enrolled in grades 3-6 in North Carolina Public Schools during the 2011-2012 school year (N = 2,104) as determined by administrative data from the North Carolina Department of Public Instruction. At the time of the Adolescent Survey, participants were enrolled in grades 5-8 and ranged in age from 9 to 15 years (Mage = 12.36, SD = 1.12). At the time of the Ecological Momentary Assessment (EMA), participants ranged in age from 10 to 16 years. The sample was representative of the state population of public school children with respect to economic disadvantage, gender, and ethnicity and, as shown in the figure, were spread geographically across the state of North Carolina.
Study Design 
All 2100 adolescents were surveyed by phone and reported on demographics, mental health, digital technology usage, and problem behaviors; a subsample of 395 adolescents were recruited to participate in a Home Visit and a 14-day EMA.
During the Home Visit, adolescents provided biological samples, including blood, hair, and saliva to capture markers of stress exposure and immune function. They also completed a battery of assessments designed to measure mental and physical health, executive function, self-regulation and perceptions of their home, school and neighborhood environments.
During the EMA, participants received three daily surveys for the 14 days, one each in the morning, afternoon, and evening. Survey questions assessed participants' daily experiences, behaviors, digital technology usage, perceptions, and mood. Eighty percent of survey prompts were answered, resulting in 13,017 total observations. The activity levels, sleep patterns, and resting heart rate of a sub-sample of adolescents was also tracked during the EMA using wearable devices.
Longitudinal assessments of adolescents and their parents are currently underway.
Publications
Odgers, CL. (forthcoming, 2018). Smartphones are bad for some teens, not all. Nature. data available here
Piontak, JR, Russell, MA, Danese, A., Copeland, WE., Hoyle, RH., & Odgers, CL. (2017). Violence exposure and adolescents' same-day obesogenic behaviors: New findings and a replication. Social Science and Medicine. doi: 10.1016/j.socscimed.2017.07.004
Rivenbark, JG., Copeland WE., Davisson, EK., Gassman-Pines, A., Hoyle, RH., Piontak, JR., Russell, MA., Skinner, AT., and Odgers, CL. (under review). Perceived social status and mental health in the transition to adolescence. Evidence from census data to cellphones.
George, MJ., Rivenbark, JG., Russell, MA., Ng'eno, L., and Odgers, CL. (under review). The benefits (and drawbacks) of using commercially-available wearable wristbands to capture adolescents' daily sleep duration.
This study was supported with funding from the National Institute on Drug Abuse Center for the Study on Adolescent Risk and Resilience (C-StARR) (P30DA023026). We thank the C-StARR study team, study participants and their families.